Developing Your Club
Clubs are at the centre of the sport of rowing and British Rowing's Strategic Plan is committed to supporting volunteers to develop the sport at their clubs.
This section contains information designed to help you develop your club.
Development of your club could include:
The building and facilities.
Training for volunteers.
Activities on offer to members.
Fundraising for equipment, including sponsorship.
Improving the governance structure, making managing the club more efficient.
Join Us
As a rowing club or centre you can affiliate to British Rowing to receive a wide range of benefits. These can be further enhanced by accrediting to deliver certain programmes. Click on the box below for further information.
Funding
For sources of funding available for developing your club, please click on the box below. For further information on local funding pots you should talk to your local Community Support Manager or your local County Sports Partnership.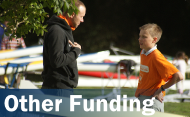 Further Support
If you would like some further support or advice on how to develop your club you should contact your local Community Support Manager. Alternatively if you would like specific information about the Explore Rowing programme please email explorerowing@britishrowing.org or for the Facilities Development programme, please contact our Facilities Consultant alan.meegan@britishrowing.org.
For day-to-day aspects of running your club, go to the Managing your Club section.