Apply to be a GB Coastal Sculling Academy
Clubs, groups of clubs and other training locations in England, Scotland or Wales are invited to help develop future GB international beach sprint athletes by applying to become GB Coastal Sculling Academies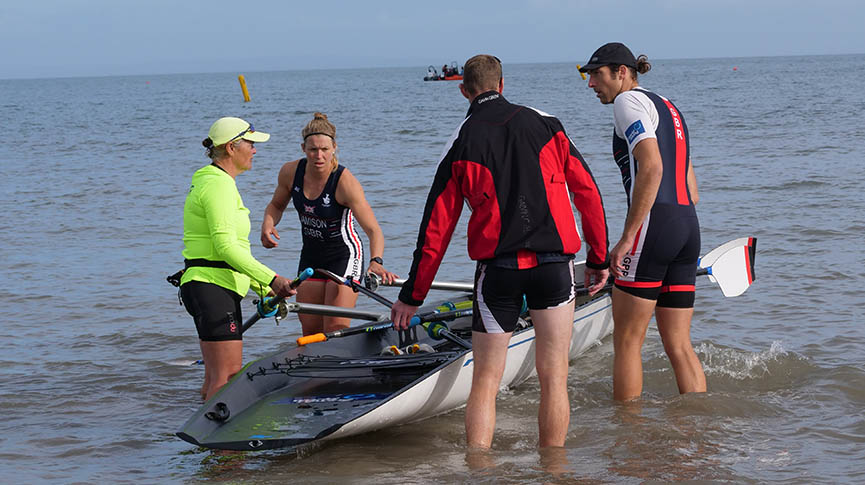 With the recent advent of the Beach Sprint format, its inclusion in the 2026 Commonwealth Games and potential inclusion in the 2028 Olympic programme, British Rowing, Scottish Rowing and Welsh Rowing will be working jointly to introduce a series of new GB Coastal Sculling Academies.
These will be based at clubs/locations across Great Britain that are recognised as suitable environments, to introduce new and existing coastal or river rowers with the potential for future international representation for GB and/or Commonwealth Home Nations teams, to develop their Beach Sprint performance.
Any club, group of clubs or other training location based on England, Scotland or Wales can apply. To be accepted as a GB Coastal Sculling Academy the club/s will need to demonstrate they can develop an appropriate environment, facilities and coaching to support rowers with the potential to represent GB and/or Home Nations Beach Sprint Teams.
Tom Pattichis, Olympic Pathway Manager at British Rowing explains, "This is an exciting time in the development of Coastal Sculling, with the Beach Sprint format confirmed for inclusion in the World Beach games in Bali this year, the Youth Olympic Games in Dakar and Commonwealth Games in Australia in 2026, as well as potential for inclusion in the LA 2028 Olympic Games. We're keen to work with clubs up and down the UK who want to support rowers with aspirations to represent GB, England, Scotland or Wales. This is a real opportunity for clubs at all levels to support rowers in a new and exciting format alongside their traditional activities."
What is the aim of the programme?
The programme aims to identify and develop rowers with the potential to perform at international level in the Beach Sprint format, and provide suitable locations for those rowers to develop their skills. The rowers making up the GB, Wales, Scotland and England teams are likely to be based across Great Britain, and therefore having a network of places they can train and develop their skills will be very important as we look to develop competitive Beach Sprint teams at World, Commonwealth and potentially Olympic level.