Heidi Long
Rower // Women's Squad
Date of Birth: 29th Nov 1996 (26 years old)
Club: Leander Club
Height: 175 cm
Hometown: Chalfont St. Peter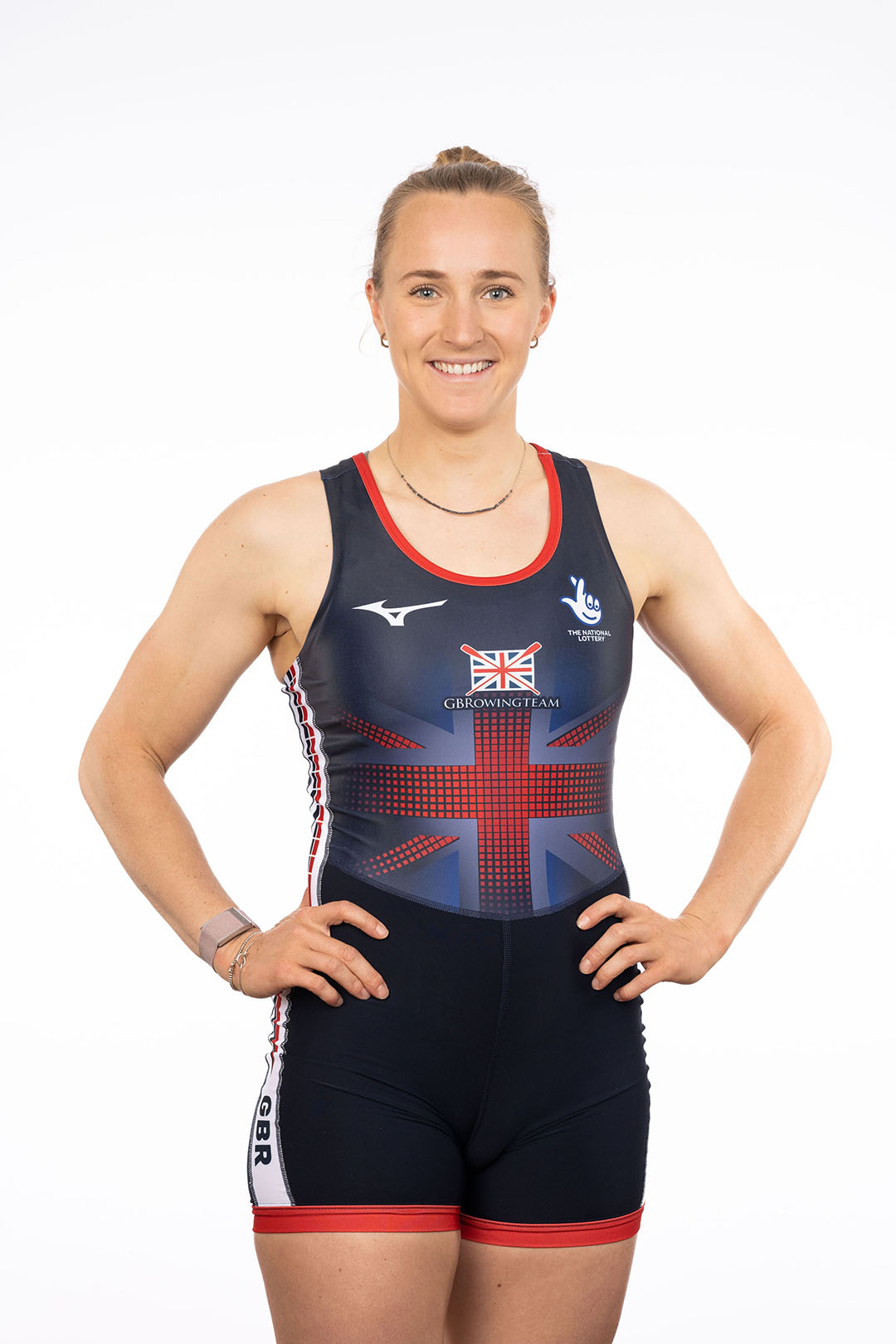 Heidi Long is reigning World Champion in the women's coxless four (W4-).
She learned to row as a junior at Marlow RC and represented GB at the World Rowing Junior Championships in 2014. During three years in the U23 team she won silver medals in the women's eight (BW8+) in 2016 and pair (BW2-) in 2018.
Heidi's first senior team appearance was at the World Cup III regatta in 2021, where finished fourth. She was selected for the women's four (W4-) in 2022 and has enjoyed an unbeaten record, winning gold at World Cups I and III, at the European Rowing Championships, where her crew doubled up in the eight for the silver medal, and at the World Rowing Championships.
She continued in the four for the 2023 season, winning silver at the European Championships.
Heidi has won Henley Royal Regatta in all three elite women's sweep events (Hambledon, Town and Remenham). She won the Atlantic Coast Conference (ACC) Rowing Scholar Athlete of the Year award in 2019.
Look after the people around you and they will look after you
GB Competitive Record
Year
Event
Position
Boat
2023
European Rowing Championships
Bled, SLO
W4-
2022
World Rowing Championships
Racice, CZE
W4-
2022
European Rowing Championships
Munich, GER
W4-
2022
European Rowing Championships
Munich, GER
W8+
2022
World Rowing Cup III
Lucerne, SUI
W4-
2022
World Rowing Cup I
Belgrade, SRB
W4-
2021
World Rowing Cup III
Sabaudia, ITA
4
W2- (GBR1)
2019
World Rowing Cup III
Rotterdam, NED
7 (1 in Final B)
W8+ (GBR2)
2018
World Rowing Under 23 Championships
Poznan, POL
BW2-
2017
World Rowing Under 23 Championships
Plovdiv, BUL
6
BW8+
2016
World Rowing Under 23 Championships
Rotterdam, NED
BW8+
2014
World Rowing Junior Championships
Hamburg, GER
7 (1 in Final B)
JW4-
Year:

2023

Event:

European Rowing Championships
Bled, SLO

Position:

Boat:

W4-
Year:

2022

Event:

World Rowing Championships
Racice, CZE

Position:

Boat:

W4-
Year:

2022

Event:

European Rowing Championships
Munich, GER

Position:

Boat:

W4-
Year:

2022

Event:

European Rowing Championships
Munich, GER

Position:

Boat:

W8+
Year:

2022

Event:

World Rowing Cup III
Lucerne, SUI

Position:

Boat:

W4-
Year:

2022

Event:

World Rowing Cup I
Belgrade, SRB

Position:

Boat:

W4-
Year:

2021

Event:

World Rowing Cup III
Sabaudia, ITA

Position:

4

Boat:

W2- (GBR1)
Year:

2019

Event:

World Rowing Cup III
Rotterdam, NED

Position:

7 (1 in Final B)

Boat:

W8+ (GBR2)
Year:

2018

Event:

World Rowing Under 23 Championships
Poznan, POL

Position:

Boat:

BW2-
Year:

2017

Event:

World Rowing Under 23 Championships
Plovdiv, BUL

Position:

6

Boat:

BW8+
Year:

2016

Event:

World Rowing Under 23 Championships
Rotterdam, NED

Position:

Boat:

BW8+
Year:

2014

Event:

World Rowing Junior Championships
Hamburg, GER

Position:

7 (1 in Final B)

Boat:

JW4-