Pancakes with cottage cheese, pear and banana
This high protein pancake recipe from Jacqueline Birtwisle is full of nutrients making it perfect fuel for winter training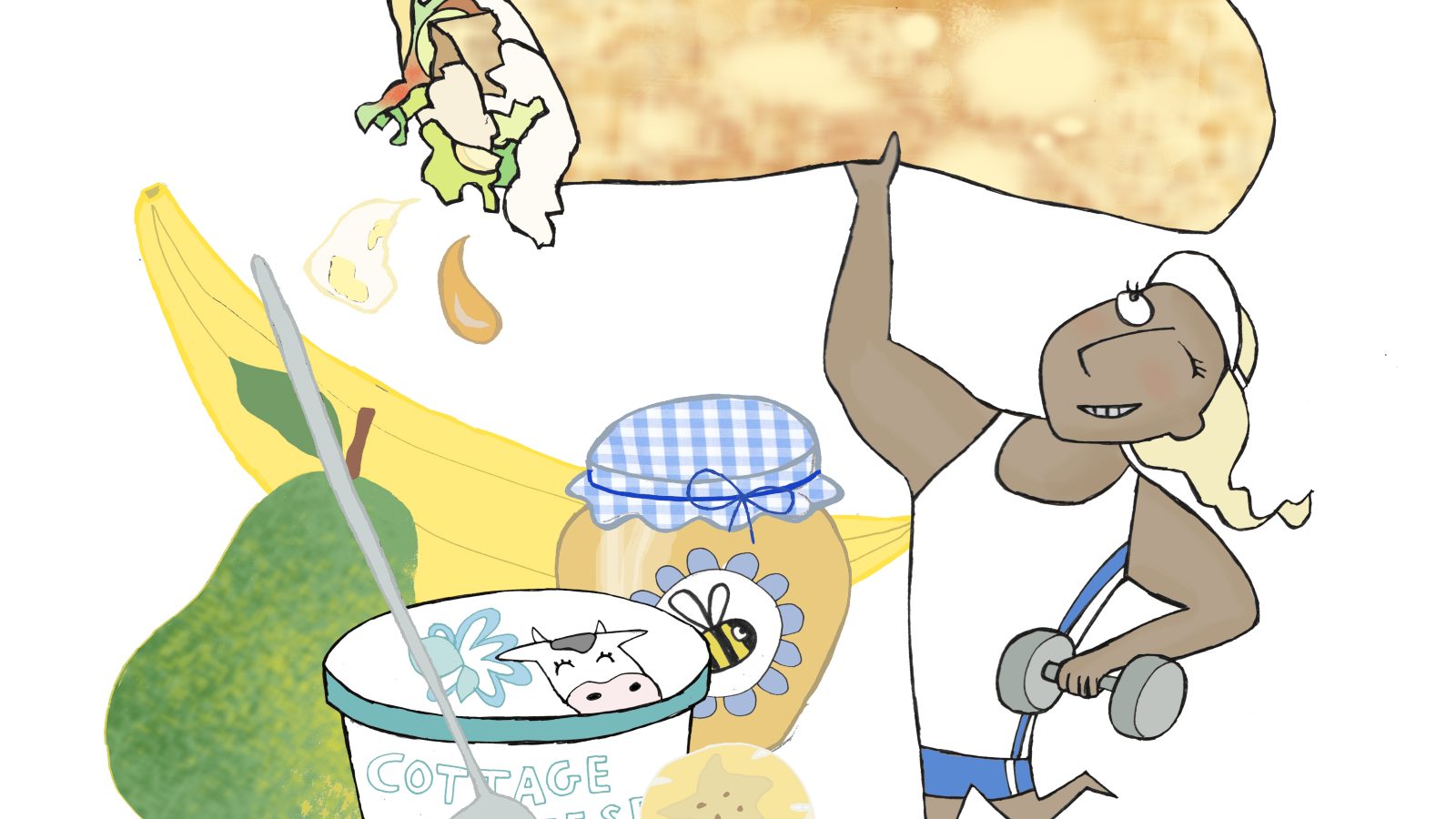 These nutritious pancakes are easy to make and provide the ideal breakfast after a hard weight training session.
Ingredients (serves two)
200ml of semi-skimmed milk
2 free range eggs
80g of wholemeal flour
80g of plain flour
2 tsp of olive oil
Pinch of salt
400g of cottage cheese
1 banana
1 pear
1 or 2 tsp honey
How to make it
1 Prepare the pancake filling first by peeling the pear and grating it. Then skin the banana and chop it into slices. Then put the banana, pear, cottage cheese and honey into a bowl and stir with a spoon. Put to one side.
2 Start making the pancake mixture by stirring the milk and eggs in a large bowl. Then add both types of flour – sieve first – and salt to the bowl. Mix well using an electric mixer if you have one.
3 Then, using a medium-sized frying pan, add a little bit of oil and heat the pan. When it's hot, drop a dollop of pancake  mixture into the pan and cook each side for about a minute. The pancake mixture should be golden.
4 Keep the pancakes warm in an oven as you cook them.
5 Smear your prepared filling onto a pancake and wrap it in a roll. Cut each pancake in half and put on a plate. Enjoy!
Try this tasty omelette!
This speedy omelette supper from Jacqueline Birtwisle is great when you're short of time after training - try it here!
Why's this good for rowers?
Rowing & Regatta magazine nutritionist Jacqueline Birtwisle says: "An energy-bursting, high protein, high carbohydrate, nutrient-packed pancake which tastes fab and won't break the bank – no protein powders here!
"Thanks to the cottage cheese which provides around 20g of protein, and the egg another 7g per serving, this is an ideal breakfast before a long later-morning outing or a higher intensity morning session. Both foods provide all the essential amino acids.
An energy-bursting, nutrient-packed pancake which tastes fab – no protein powders here!
"This meal also works as a recovery breakfast after some serious body weights thanks to both its carbohydrate and protein content. Significant amounts of many nutrients are provided in this pancake including calcium, phosphorus, B vitamins, iron, zinc, copper – all important for bone health and recovery from hard training."
Nutritional information
Energy – 757 kcal, Carbohydrate – 91g, Protein – 39g, Fat – 24g, Fibre – 9g
If you switch the regular cottage cheese for fat-free cottage cheese then the recipe provides 675kcal, 13g fat and 41g protein per serving.