Information – Beach Sprints
Information about the British Rowing Beach Sprints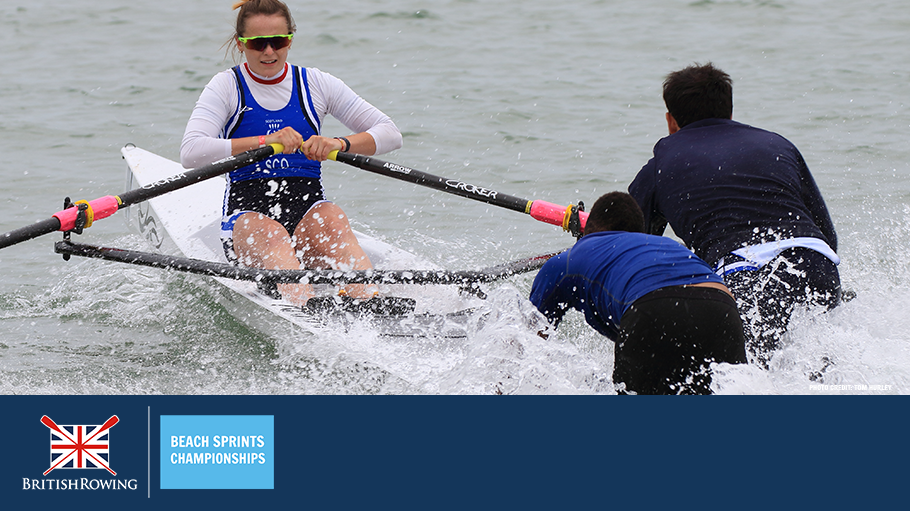 | Event information | British Rowing Beach Sprints |
| --- | --- |
| Dates: | 11 August 2019 |
| Time: | 09:00 – 16:00, subject to entries and conditions |
| Location: | Sandbanks Beach, Sandbanks Car Park, Banks Road, Poole, Dorset BH13 8QJ |
| Results: | Available here |
| Photos: | View and buy photos here |
Event information:

Dates:

British Rowing Beach Sprints:

11 August 2019
Event information:

Time:

British Rowing Beach Sprints:

09:00 – 16:00, subject to entries and conditions
Event information:

Location:

British Rowing Beach Sprints:

Sandbanks Beach, Sandbanks Car Park, Banks Road, Poole, Dorset BH13 8QJ
Event information:

Results:

British Rowing Beach Sprints:
Event information:

Photos:

British Rowing Beach Sprints:
*Race timetable my be subject to change due to weather conditions.
Boat classes
The following boat classes will be raced:
Open (M) CM1x, CM2x
Women (W) CW1x, CW2x
Mixed (Mix) CMix2x
Medals will be awarded for 1st, 2nd and 3rd place in each of the events.
Boat types
All boats used must conform to the British Rowing Rules of Racing, Rule 14, Appendix F, Offshore Rowing Competition Rules.
Solo (C1x)
Double (C2x)
Boats
Matched boats will be provided for all competitors.
Oars
All competitors must supply their own oars.
Boat handlers
All competitors must bring at least one boat handler to assist with their racing.
Training
Times for training will be made available after entries have closed.
Life jackets
All competitors must supply their own manually inflated life jacket. Life Jackets are not compulsory for this event.
British Rowing membership
To take part in the British Rowing Beach Sprints you need to have a minimum of a British Rowing RACE membership.
Membership of British Rowing provides a number of benefits including the important racing insurance. Please see the British Rowing website for more details and to purchase your membership.
World Rowing Beach Sprints Finals – selection
The British Rowing Beach Sprints Championships will be used as a selection event for the 2019 World Rowing Beach Sprint Finals, in Shenzhen, China from 25-27 October. To view the selection policy, click here.
Overseas Crews Policy
We welcome overseas crews to race at the British Rowing Beach Sprints. The first three overseas crews per event will be guaranteed entry, after this any further overseas crews will be placed on a standby list. Once entries have closed crews on the standby list will be notified if their entry has been successful.
Filming and media
All competitors at the British Rowing Beach Sprints need to be aware that the event may be streamed live online (on British Rowing's YouTube channel) and that other media, including photographers, will be at the event and have been permission to publish images and content captured at the event online and in print.
If there are any concerns that you, your athletes or the parents of your athletes have in the run up to, or during the event, please contact the Event Welfare Advisor, Sarah Harris.
Safeguarding
The Organising Committee of the British Rowing Beach Sprints recognises their duty of care to ensure that all reasonable steps are taken to provide a safe environment for all those attending the regatta in whatever capacity.
Retail Village
Exhibitors who would like to attend the event need to contact Jonna de Vries, to register their interest.