Robin Williams MBE
High Performance Coach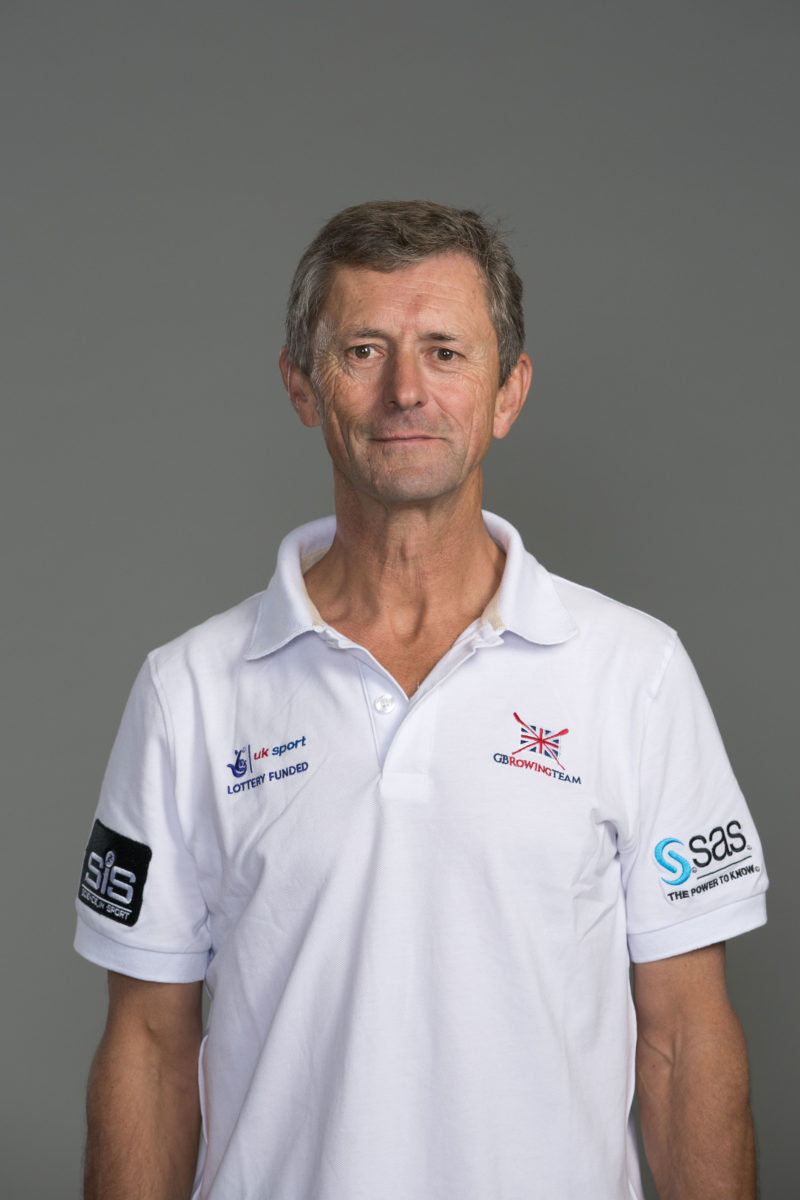 Robin joined the GB Rowing Team as a full-time coach in 2005, and has been responsible for the outstanding women's pair since 2011.
Helen Glover and Heather Stanning have been unbeaten during this time, and have won an Olympic, three World and a European title together.
They now have high hopes for a second Olympic title at the Rio Olympic Games this summer.
On The Water
©Peter Spurrier/Intersport Images
Rio 2016 Olympiad: 2013 – 2016
At the World Championships in 2013 in Chungju, Korea, Helen Glover was joined by newcomer Polly Swann, and the pair took gold, 3 seconds clear of Romania in silver medal position: a very impressive result for a new combination.  In the same year, Robin also co-coached the W8+ with Chief Coach, Paul Thompson, to finish just two seconds outside of the medal zone.
Since 2014, Helen Glover has been rejoined by Heather Stanning, who was released from service with the 32nd Regiment Royal Artillery. The duo have claimed two consecutive World Championship wins, and their exceptional two length victory in the final of the 2015 event in Aiguebelette was described by the GB Rowing Team Performance Director, Sir David Tanner, as 'amongst the best ever from a GB crew'.
London 2012 Olympiad: 2009 – 2012
At the 2012 Olympic Games in London, Robin coached Heather Stanning and Helen Glover to a spectacular gold medal, and was awarded the MBE in the 2013 New Year Honours list. Along with the victory of the LM4- at the 2007 World Championships, Robin lists this as one of his proudest coaching achievements.
More info...
Robin started coaching at Westminster School in 1991. He had spent 10 years working in publishing and advertising and wanted a change. He spent three years as Head Coach at London RC and also coached at City of London School. Robin was chief coach of Cambridge University Boat Club between 1994 and 2005, winning 8 out of 12 races.
In 1994, under Robin's supervision, the GB men's lightweight eight took gold at the Commonwealth Regatta. The following year Robin struck gold again with the Under-23 men's coxless four. He moved back to lightweights for the 1996 Olympics, coaching the10th placed lightweight four. In 1998 his Under-23 coxed four won bronze at the World U23 Regatta. Robin's lightweight men's four placed 5th at the Beijing Olympics; this was the first time ever that a GB lightweight men's crew had made an Olympic A-final.
Robin has an impressive rowing background of his own. He took up the sport at Monmouth school, aged 13, and rowed at University of London Boat Club, gaining his first GB vest in 1981 when he was selected for the World Championships. He was one of the top lightweight rowers in the 1980s and his medal collection includes 5 Lucerne golds.
Robin's first job was as a salvage diver in the Caribbean. Away from rowing he enjoys cycling and sailing, and says he would take his family, a sailing boat and a good book to a desert island.